As we move into May and its bout of public or bank holidays (including the extra one for the Coronation) and having just passed Easter, it must be time to ask ourselves whether or not they are a good or a bad thing.
In economic terms you would have thought that there was good research into this as political parties occasionally float the idea of adding extra Bank Holidays to level the UK up to the level of most other major economies in Europe, or indeed the world.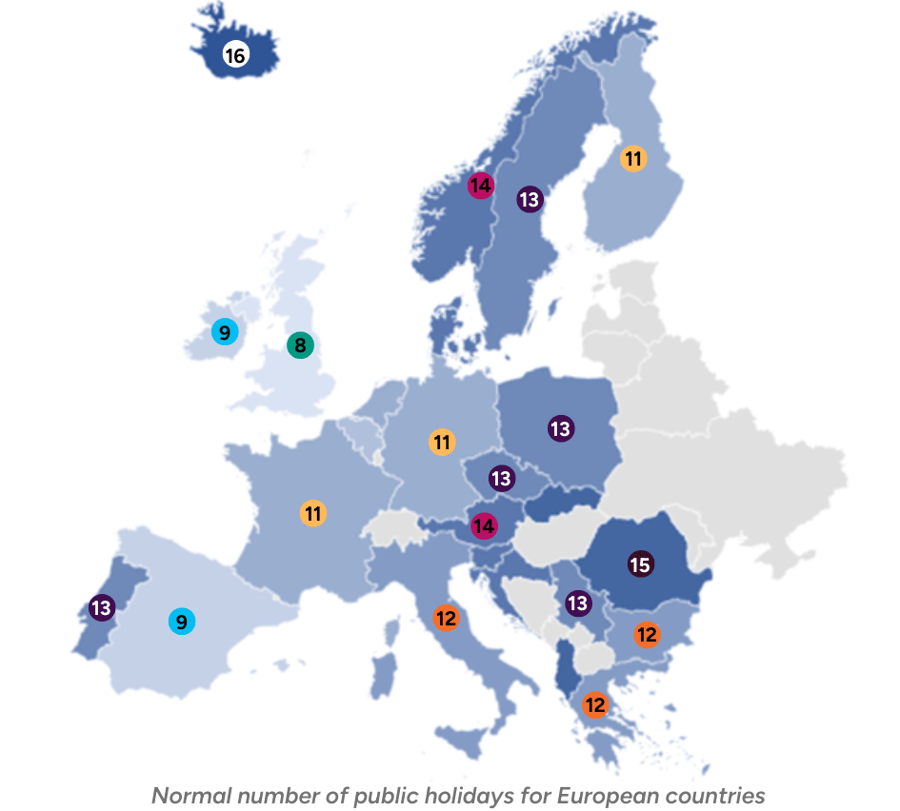 A full list of the UK's bank holidays for 2023 was given in a recent blog about Easter.
Recently there have been a spate of extra dates added for royal events such as the Platinum Jubilee, the death of the Queen and the Coronation of King Charles. Even so, there seems to be a wide range of supposed cost benefits with most research saying that they reduce GDP but some saying they actually increase it, ranging from £3.6 billion loss to £1.1 billion gain. In reality the impact will depend on what sector you are in, e.g., Retail is likely to gain from having additional people away from work and able to spend money, but if you are a coffee shop in an office district you are also likely to lose out!
All this being said, there is no legal requirement for most businesses to close on a designated Bank Holiday (there are legal requirements for large shops to close on Easter Sunday and Christmas only) and there is no requirement other than personal contractual arrangements for employees to get additional pay or time in lieu. Even the working time regulations designate 28 days as the minimum including Bank Holidays. Unless contracts are worded in a way that designates a number of days plus bank holidays to make up this minimum, then this even means that there is no further legal requirement to offer additional time off for additionally designated bank holidays.
So, in effect taking bank holidays off in the UK boils down to a choice within the contractual arrangements between the organisation and the employee and there certainly seem also to be a number of possible pros and cons to the UK economy and workforce alike.

Boost to tourism and leisure industries - Bank holidays are often associated with travel and leisure activities, and as such, they provide a boost to the tourism and leisure industries. This can lead to increased revenue, employment opportunities, and economic growth.
Increased consumer spending - they can lead to increased consumer spending, as people have more time to shop and spend money on leisure activities.
Time off together - as they are standardised the time off is often consistent, ensuring friends and families get time off together.
Reduced stress and burnout - taking time off work for bank holidays can reduce stress and burnout among workers, which can lead to increased productivity and a healthier workforce.

Reduced productivity – as businesses may close or operate with reduced staffing levels. This can result in a loss of revenue and decreased economic growth.
Increased seasonality – the build up to bank holidays can cause supposedly flat profile businesses to build higher stock levels prior to closures, with associated overtime or stockholding costs.
Disruptions to supply chains - as transportation and logistics may be affected this can result in delays and higher costs for businesses.
Higher labour costs - if businesses choose to stay open on bank holidays, there may be an expectation to pay employees higher rates of pay or provide other incentives.
Ultimately therefore, the impact of bank holidays on each organisation will depend on a range of factors, including the type of business and industry and the overall state of the economy.
Also, a major impact is the timing. As seen here there is a glut of holidays in April and May and then only a single further one between May and the end of December in England.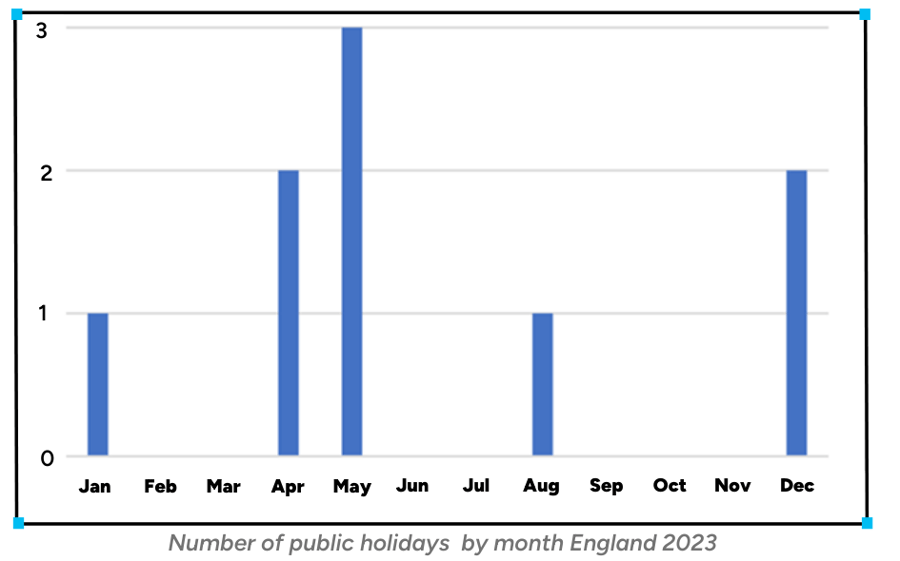 This has caused some people to urge for changes to the dates to spread them more evenly across the year. Controversially there was an attempt a few years back to move the May Day holiday, synonymous with left wing labour organisations, to Trafalgar Day, on October 21st.
Perhaps more sensibly Monzo Bank, Grant Thornton and Spotify among others, have recognised that our diverse workforce may have different requirements for holidays and suggest that employees be able to celebrate Eid or Diwali rather than the traditionally Christian based public holidays. Great in theory but again this will depend on acceptable conditions within each industry that allow holidays at different times of the year. If the required change falls within an exceptionally busy period, then this might not be appropriate? If everyone else is off is there still other work available on the traditional UK public holidays? Are other functions open, e.g., security, canteen, management, IT etc.