If you're a shift planner, an employer, an operations manager, or even simply a parent you will recognise the frustrations of understanding where in the calendar Easter lands, as it occurs on different dates each year.
It is a moveable feast that can vary widely from year to year, falling between 22nd March and 25th April. Its date is calculated based on a complex set of astronomical and ecclesiastical calculations.
When it falls has obvious implications on shift scheduling, production plans, stock holding and service provision, with employees wanting to take time off and demand fluctuating.
Believe it or not, this method of calculating Easter was first established at the Council of Nicaea in Turkey in 325 AD. However, in England, there continued to be two methods of calculation until in the 7th century Hilda, an Anglo-Saxon abbess of Whitby, argued that the so-called "Roman method" was more accurate.
This became the standard method and it is now celebrated on the first Sunday following the first full moon that occurs on or after the vernal equinox! Very straight forward! Around the world other calculations still exist, such as that used in the Eastern Orthodox Church, which means inconsistency still remains.
The History of Bank Holidays
The practice of granting time off or paying extra for working on bank holidays has evolved over time.
Before the 19th century, the Bank of England and numerous other public offices took a large number of holidays (up to about 40) to celebrate royal events, Christian festivals and saint's days, such as St George's Day on 23rd April or Ascension Day on 17th May. Meanwhile, 'local holidays' or 'factory holidays' were also a strong tradition on certain other days. This later expanded, as paid holidays became the norm, and is still seen in many areas of the country or in specific industries, such as the "Wakes" week in many Northern mill towns, but overall the tradition faded somewhat.
Sir John Lubbock, the first Lord Avebury introduced The Bank Holidays Act in 1871 which established four official bank holidays in England, Wales, and Ireland. These were Easter Monday, Whit Monday, the first Monday in August, and the 26th December if it was a weekday. The act did not cover Good Friday and Christmas Day as they were already considered traditional "days of rest" (as were all Sundays). In Scotland it designated five, New Year's Day (or the next day if a Sunday), Good Friday, the first Monday in May, the first Monday in August and Christmas Day (or the next day if a Sunday). However, as was said in Parliament, "the question of holidays was generally left to be settled between employers and employed". So, it did not require employers to give their employees time off on these days, but "no person was compelled to make any payment or to do any act upon a bank holiday", essentially closing banks and becoming a formal national holiday.
It was not until the 20th century that bank holidays became widely recognised as public holidays and days off for workers. In the four countries of the UK there remain some slight differences, not only in dates but also in number, with England and Wales losing out!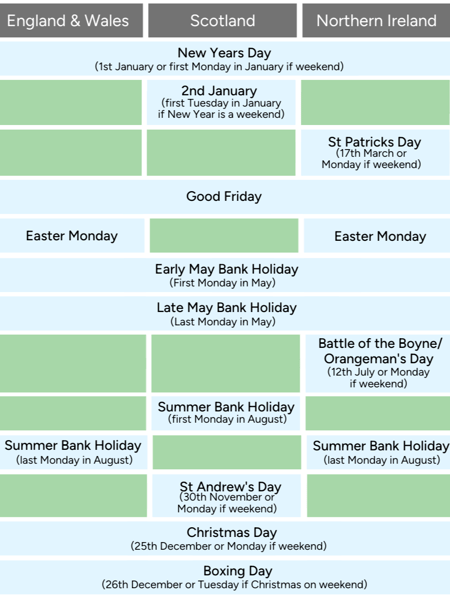 Each of these other holidays comes with its own unique history and cultural significance. For instance, the Early May bank holiday or May Day, has its roots in the labour movement and is a day to celebrate workers' rights and achievements and has its origins in the late 19th century. The late May bank holiday, was first introduced in 1971, alternately known as the Spring bank holiday, has its roots in the agricultural calendar, and was traditionally a time for workers to take a break.
Originally all of the UK had the Summer bank holiday in early August but in the late 1960's Edward Heath pushed to change it to the Monday following the last weekend in August in a bid to increase trade in England, Wales and Northern Ireland. Scotland was exempt from the change, as its school year begins earlier, in mid-August.
Workers' Rights
This year, for all of the UK there is an additional bank holiday on the 8th May 2023 for the coronation of King Charles III.
There is no statutory right to paid leave on bank and public holidays, an employer can choose to include bank holidays as part of a worker's statutory annual leave of 5.6 weeks, as included in working time regulations. Any right to specific time off or extra pay depends on contractual arrangements.