Digital transformation is one of the most important processes of the digital landscape and is key for ensuring your company keeps up with the necessities of the modern world.
With worldwide digital transformation spending on an upwards trend — and projected to have increased a net 208% from 2018 to 2025 — it's evident that businesses are seeing more reasons to take the step into the future.
We especially believe that this process is crucial to any successful business, and so that's why in this article, we're going to take a look at how you can make sure that your Digital Transformation project is successful.
What is Digital Transformation?
Digital transformation is simply the name of the process of bringing a company or system into the digital era. Rather than targeting a specific system or infrastructure, Digital Transformation is an institution-wide process, from process to culture.
This process can be divided into four main areas —
Process Transformation: This transformation brings your organisation's internal processes into the digital age, which includes the implementation of modern innovations such as Analytics and Advanced Data Management, Artificial Intelligence, etc.
Business Model Transformation: Business Model Transformation aims to achieve a holistic transformation of your business model. This is to use technology to drive sales by appealing to a post-digital audience — the most successful digital companies (such as Netflix and Amazon) all fulfil a need within our digital world.
Domain Transformation: Being able to diversify your income stream is important for businesses that want to grow — this is often done through Domain Transformation. By being able to enter new domains and areas successfully, you can increase your reach and diversify your company's offerings.
Cultural Transformation: By transforming your workplace culture to meet the standards of a modern workplace, you can ensure that your employees are nurtured enough to innovate and help propel your business even further forward.
Best Practices to Ensure Success in a Digital Transformation Project
Define Realistic Goals
Ambition is key to any project. However, being overly ambitious is often the downfall of many.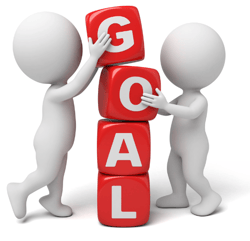 By setting your expectations and ensuring your goals stay realistic, you can better predict the success of your project. You can always focus on growth afterwards, but it's important to avoid disappointment or — even worse — catastrophe.
Rather than setting huge targets for your whole project, a great way to set goals is to create and define aims to achieve in independent areas that can have a spectrum of success.
Some examples include
Better customer experience
Increased efficiency
Reducing costs
Improving employee performance.
Involve Your Leadership Team
Leadership is one of the most important parts of any team or workplace. Ensuring that the leadership of your business is involved can help ensure that everything runs smoothly and that the best decisions are made for those leaders' areas of responsibility.
After all, you want to enable your company to prosper. Instead of independently making decisions that impact every employee, involving the leaders to help set realistic goals that benefit the whole workforce means that you can ensure morale stays high and give people the best opportunity to work to their full potential.
Choose the Right Technologies
Technology is the backbone of the digital era. By failing to consider and choose the right technologies for your project, you'll falter in reaching your team's full potential. After all, the technological limitations of your project are the highest limiting factors.
Keeping up-to-date and well-researched on possible technologies you can use in your field is very important to ensure that you're constantly ahead of the curve in technological innovation. Often, using an upgradable technology if possible will futureproof your work and make sure that you can scale up the technological aspect if need be.
Work with a Trusted Partner
Rather than having to work it all out yourself, finding a trusted partner to help you in your digital transformation journey can improve your success tenfold. By hiring a partner that knows what they're doing, they can take care of the complexities of the process whilst you focus holistically on your vision.
The best-trusted partners also provide education and support throughout the process and afterwards too, to ensure that your company can truly excel going forward. Rather than settle for less, why not see how we can help?
Educate Employees and Manage Change
Introducing a new vision for employees can cause distress or tension, and can lead to lower morale in the team. Also, Domain Transformation especially has the inevitable challenge of having to enter a new field, with new challenges.
This is why educating employees on your new systems and goals and helping them settle into a digitally-focused workplace can truly help enable their full potential. Rather than feeling confused and lost throughout the process, an excellent trusted partner will provide guidance and support for any employer or employee that needs it.
---