Police forces up and down the country often have to make difficult decisions about redeploying their staff to cover large events, responding to particular incidents or juggling how to allocate overtime.
Chris Pollicott, Product Lead at Crown Workforce Management, explains how new software being developed by the firm will allow workforce planners to make the best decisions for their forces and allow them to better serve the public.
When it comes to managing a police force with hundreds of employees, even the simplest tasks related to resource management can become very complicated. Factoring in things like accumulated overtime, having staff on annual or sick leave, mandatory rest days and pattern swaps can be a minefield for allocating resources in a force with hundreds of officers. Trying to negotiate this manually is borderline impossible, even in an organisation of around 50 staff, let alone 5,000.
Our current duty management system (DMS) makes this vital task much easier for shift planners by highlighting where demands may be short, and which officers could be redeployed to help. This ensures there's always the right people, at the right place, at the right time without planners having to frantically call people to see who's available.
Chris says, "We've seen great success with forces in recent years with this type of software. However, there are always areas where we can iterate and improve."
Automation as a tool
Police forces are full of individuals with a wide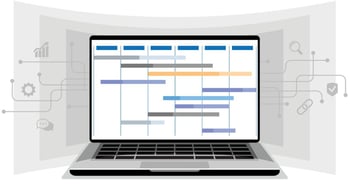 variety of skills, and deal with events large and small with all sorts of different requirements. When it comes to deployment, this variety can be overwhelming.
Some police officers have specialisms such as being dog handlers or trained in firearms. Others may have accumulated more overtime than others at a given point. And some may be based on one side of a force's patch when an incident or planned event may be occurring on the other side. All of these factors result in certain officers being more suited to being deployed to a given event, and others being less suited.
We are now developing improved software that takes all these specialisms into account and assigns the best people for the job based not only on their skills in their default roles, but outside of them too – while also allowing the final decision to be taken by the shift planner.
The software would also make those 'no-brainer' redeployment positions automatically, allowing the planner to focus on the more difficult decisions. Once redeployment has been requested, the software will continue to help the planner reassign staff to cover any shortfalls that may have appeared elsewhere.
There is also a high degree of flexibility within the software to allow planners to retain as much control as possible. Planners can configure what level of demand is allocated to certain areas by the software should they want to, or simply allow the software to operate as it is.
Ultimately, we want to provide planners with as much relevant information as possible to allow them to make the most informed decision about staff redeployment, with the simple decisions already taken care of.
There may be a whole host of reasons why a shift planner may decide to go against what our software recommends – the human element must never be lost from these kinds of decisions. But with a shift planner's intuition and interpersonal knowledge of their forces, combined with the strength of our new software, forces will be able to deploy staff in an incredibly efficient way which will not only benefit officers' wellbeing, but the public who they serve.
Implementation

We are currently working with 16 police forces across the UK and see first-hand that every force is different, whether that be in the number of officers it employs, the kinds of incidents or events that happen in its patch, or the size of the patch they cover.
This means that a one-size-fits-all approach to implementing DMS software is not going to bring the best results for all forces. We work alongside individual forces to ensure that our software is implemented gradually and effectively so officers and shift planners understand the changes that are happening and allow us to iron out any creases should we need to in the early stages.
Each force will have a dedicated Project Manager during the implementation phase so that any problem can be identified early and acted on before the system is fully integrated into the force. Once fully up-and-running, this support continues to make sure the software is working as it should, and we make regular assessments of its effectiveness.
We're also designing it to fit seamlessly into other functions of Crown's DMS, such as payroll and time management. This means there is no duplication of work or having to try and awkwardly match up one system's output with another's.