Shropshire Staffordshire and Cheshire Blood Bikes (SSCBB)
The volunteer group which was formed in 2014 helps to transport blood and other small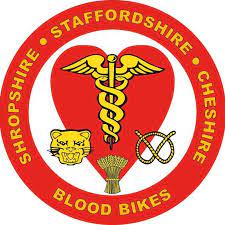 medical items when they are urgently needed by hospitals across the three regions at any time of the day.
They currently serve a total of 14 hospitals, two hospices, two human milk banks and three NHS blood banks.
SSCBB are recruiting for advanced motorcycle riders, controllers and fundraisers to join them after the team completed 6,291 jobs and travelled 321,039 miles during 2022 – which was a year-on-year increase.
SSCBB currently has around 370 members in a variety of volunteering roles, but the charity is currently operating with 16 fleet vehicles and around 188 regular riders.
David Eatough, who works for Crown Workforce Management on Tamworth Business Park has been riding for Shropshire Staffordshire and Cheshire Blood Bikes (SSCBB) in his spare time for two years.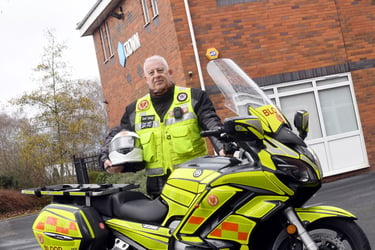 David currently volunteers around 20 hours a month for the charity alongside his job at Crown, where he is Head of Projects and Professional Services.
David, a former police motorcyclist, was inspired to join SSBBC as a way of supporting the NHS after they helped him and his family on three separate occasions – including a serious road accident, the passing of his daughter, and the premature birth of his youngest child.
David said: "The blood bike service is saving the NHS thousands of pounds on transport fees so money can be spent on equipment and other vital resources to help save lives, so this is my way of saying thank you to them for the support they have given me over the years.
"If there is a medical product that a hospital needs urgently that will safely fit on a motorcycle, then we will take it.
"Our main focus as a group is to maintain the level of service that we are currently offering to hospitals, and if the past few years are anything to go by where we have seen demand rise, then we are going to need additional volunteers across every area.
"Our running costs are around £80,000 a year, which contributes to the purchase of new fleet vehicles and ongoing maintenance of others, as well as purchasing fuel. All of this is funded by generous donations from the general public.
"SSCBB is the perfect fit for those wishing to make a difference and give back to society as you know you're making a tangible difference not just to the NHS, but to someone's life too."