For companies looking to take advantage of cloud solutions, it can be quite confusing to navigate the different types of cloud service models.
Businesses have undergone a phenomenal digital transformation, with modern information technology becoming the core capability for businesses to serve their customers. And cloud computing is playing a pivotal role in the success of that digital transformation.
Cloud solutions come in three primary types of information technology services – Infrastructure as a Service (IaaS), Platform as a Service (PaaS), and Software as a Service (SaaS). They meet different kinds of business needs, and can each be consumed separately or in some combination.
Cloud solutions can also be deployed and hosted on four types of cloud platforms – Public, Private, Community and Hybrid. They provide different profiles of IT infrastructure ownership, features, capacity, location, privacy and security. Businesses can choose cloud platform models that suit their specific requirements and preferences.
With many confusing considerations, you may be wondering which solution is best for your business
Here are some key aspects and features of cloud solutions and services :
Public Clouds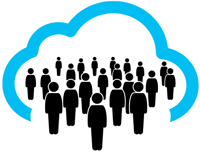 Public cloud platforms are implemented on infrastructure owned and operated by a cloud service provider, and accessible for open use by general public over the internet. They are scalable, highly available, and typically charged based on usage, offering flexibility and cost-effectiveness. Major public cloud providers include Microsoft Azure, Amazon Web Services (AWS), and Google Cloud Platform (GCP). These platforms benefit from massive investments in technologies and significant economies of scale.
Private and Community Clouds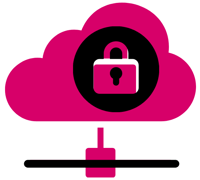 Private and community cloud platforms are provisioned for exclusive use by a single organisation or by a community of organisations with shared concerns (such as mission, security requirements, policy, compliance, etc.). The infrastructure of these platforms can be owned and managed by the organisation itself or hosted by a third-party provider. Private and community clouds can offer more operational control, customisation, and specific security features compared to public clouds. But they are likely to be costlier than public clouds. Private clouds can be physically located on-premises or hosted in dedicated off-site datacentres.
Hybrid Cloud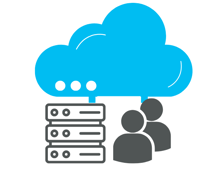 Hybrid cloud is a combination of public and private cloud environments that are interconnected and operate as a single infrastructure. Organisations can leverage the scalability and cost-efficiency of the public cloud for non-sensitive workloads while keeping critical data and applications in a private cloud for enhanced security and control. Hybrid cloud can enable seamless data and application portability between environments and provide flexibility to meet specific business requirements. However, hybrid cloud implementations can be complex to implement, manage, and maintain.
Managed Cloud Services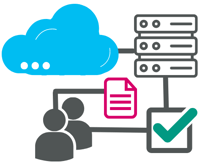 Managed cloud services overcome the complexities of the underlying technical cloud platform, enhancing the technical platform with service operations, maintenance, and monitoring. They provide much simplified access to the benefits of the cloud platform. Third-party service providers such as Crown take care of the design, management, and maintenance of the cloud platform. . Managed cloud services can provide a combination infrastructure and application services. The provider handles tasks such as application provisioning, software updates, capacity management, security, monitoring, and backups. Managed cloud services are designed to offload the burden of IT infrastructure management from the users, allowing them to focus on their core business activities.
In Summary
Cloud can provide access to infrastructure capacity and application services. Public clouds offer cost effective, scalable resources over the internet. Private clouds provide exclusive control and specific security for a price premium. Hybrid clouds combine the benefits of public and private clouds, allowing organisations to optimise their workloads based on specific needs, although with higher complexity. Managed cloud services can provide a simplified blend of business services with management and maintenance of the cloud infrastructure so that organisations can focus on their business requirements.
So, what is right for your business?
For most organisations, the managed cloud service model is the best option. It saves costs and also allows you to work with an established provider to ensure that your system remains stable and reliable, with great scalability and flexibility.