Spring is a time for renewal and growth, and this is also true for businesses and other organisations.
As the weather improves (hopefully!) and the days get longer, it may be an excellent opportunity to take a fresh look at your ways of working and shift patterns to ensure that they optimally align with the needs of both your employees and your business. No matter how large an organisation is, having efficient and appropriate ways of working, and an effective workforce management system is essential for the success of your organisation.


The Workforce Management and Planning Cycle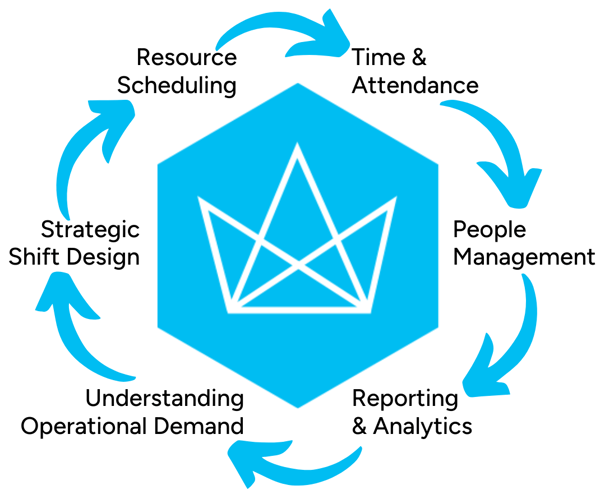 At Crown, we see workforce planning and management as a virtuous circle. In the new world of work, businesses need to stay on top of their workforce activity to remain productive and effective. ​Smart businesses are always looking at how they can manage their workforces in a smarter way. It requires continuous attention and focus, supported by business systems that provide accurate, insightful information to ensure that their workforces are working in the most effective way possible. This should be mutually beneficial for both the business and its people.
So, it is important to continually monitor working time and regularly review your current working practices to assess whether they are still relevant and meet the needs of your business and people. Strategic shift design can play a critical role in supporting the development of new working arrangements to meet changes in operational demand. Depending on whether the change is a short term fluctuation or a seasonal trend that has never been properly addressed determines how this should be realised.
Doing nothing could have serious consequences whether in cost terms or over or under work – and thus impacts on productivity, morale, retention, and recruitment.
Moving on through the cycle, the resource scheduling, time and attendance, people management and reporting and analytics all come under the banner of "workforce management". A good workforce management system should provide you with the tools you need to manage your team, including shift scheduling, absence management, and employee time tracking, and should be accurate, easy to use, intuitive and save you time with your administrative tasks. It also needs to cater for the complexity of modern working life and the ability to flex to the needs of both the business and individual employees.
Having an effective workforce management system in place can help you manage your staff more effectively, reducing the risk of errors and confusion. For example, with the use of scheduling software, you can quickly and easily make changes to your shift patterns, ensuring that your employees are always working the hours that best suit your business needs. This reduces the risk of last-minute scheduling changes, which can be disruptive for employees.
The time and attendance component empowers you to manage every aspect of staff attendance and absence creating detailed time records, which are essential for the accurate payment of all employees and for confirming attendance against planned work rosters. It compares worked hours with expected work patterns to calculate overtime, flex or other working hours bank usage. Managers and team leaders can create automatic workflows to manage absences, return to work and disciplinary processes. A good system will also be able to ensure compliance with Working Time Regulations.
Whether you want to use timeclocks equipped with identification readers of any sort or other method of clocking, the aim is to provide real-time access to attendance and absence details. Manager, planners and employees should have access to relevant upcoming rosters putting them all in control of current and future activities.
A Reporting and Analytics function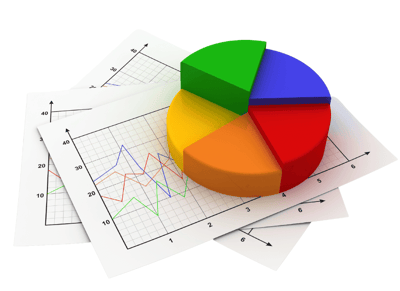 will provide management information to understand what has happened, why it has happened and whether or not it should or shouldn't happen in the future leading to a smarter decision making capability.
Linking workforce management directly with your other systems at work, for example HR or payroll, will allow for more greater data accuracy, reduced repetition and a reduction of the administrative burden.
By accurately capturing time and attendance information from your employees will enable you to record a higher quality of data which can be used to form new workforce processes that make your teams more efficient. Absences should be monitored to allow a better comprehension of the root causes. Unless checked and understood absenteeism can breed resentment from others and can adversely affect business performance.
Time for a Spring Clean
So, now could be the perfect time to spring clean your workforce management system and shift patterns to ensure that they align with the needs of both your employees and your business. Having the right technology in place, clear processes for tracking employee time and attendance, and a focus on the employee experience will help to ensure a productive and successful workforce. By taking the time to review and adjust your workforce management system, you can ensure that your business is well positioned for future challenges and success in the coming months.
Wherever you are on the business improvement cycle, if it involves your most valuable asset, your people, you may need to consider changing and adapting and a Crown Workforce management system and our consultants can help you :
Develop more effective ways of working, matching the workforce to operational demand
Plan workforce rosters that reflect workforce activities
Track and measure workforce attendance, absence, and activities across the entire workforce, for any form of working, however simple, complex or flexible
Help your HR and Management teams focus on the important stuff
Utilise huge amounts of workforce data to provide powerful insights and decision making