You may have seen the picture of a company notice going viral recently? It is unknown in which business it was posted in or even which country.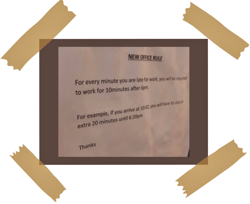 Wherever it is from, it raises a number of possible legal and cultural issues. It says that

"For every minute you are late for work, you will be required to work for 10 minutes after 6pm. For example, if you arrive at 10.02, you will have to stay an extra 20 minutes until 6.20pm."
Starting from a legal viewpoint, there would obviously be an issue as to where this sits within the employment contract.
Is this part of an existing lateness policy? It doesn't look like it! Being punctual should be part of the contractual arrangements and failure to attend when planned could, in some cases, even lead to dismissal following a defined disciplinary process.
If this is from a UK based business, and a person was on the minimum wage, then extension of the working day, for no additional pay, would very likely lead to illegality by reducing the hourly pay to something below the legal limit.
In any case, putting legality to one side, this is hardly likely to help foster good relationships between the business and its employees and would undoubtedly raise heckles very quickly! It most certainly is not the best way to engender a positive culture and speaks of an exasperated manager with a kneejerk, cover all reaction.
All this being said, lateness is unquestionably a serious issue. Not only because of a compromise to performance and productivity, but also questions of fairness could arise with other employees if it remains unreprimanded and morale could drop, meetings or other tasks could be delayed. This would be especially serious if in a customer facing capacity, where it may lead to reputational damage. So, it must be dealt with before it becomes a serious issue. And a workforce management system can give you the heads up, perhaps even before others realise there's a problem. It is important to note that there may be wiser things to do than to time in with alarms blaring and sanctions every time a person is two minutes late! The workforce management system will give the data around any lateness in clockings, and even better, can report on patterns of lateness, but the reasons behind it would be best investigated before major sanctions, following fair procedure, allowing for basic humanity and company policy.
The workforce management system should never be seen as "Big Brother", but it does ensure the workforce understands that even if managers are busy, or the business is widespread, or has multiple locations, their attendance or otherwise is not going unnoticed.
Occasional instances, such as unexpected traffic delays or problems with public transport, family issues or other such impossible to predict instances, may be dealt with by negating the need to take any action or perhaps at the most by making the time up.
In these one-offs it may be safe to assume that the employee cannot have had much influence on the lateness, however if more frequent patterns of instances occur then they may need to be dealt with differently. The reasons may be straight forward, for instance, the 8:15 bus invariably is late, and the employee should get an earlier bus. Or the reasons may be of a more complex and personal nature, but they need to be properly understood and dealt with appropriately. If the employee is unable to offer valid excuses, then it should be made clear the effect that it is having on the business and other employees, warnings and other suitable disciplinary procedures should be followed according to company policy. Again, it should be noted that as with most issues in the workplace an instant fall back to formal disciplinary procedures is more likely to lead to a toxic work environment than a harmonious one, so this should be handled with great care, consistency and fairness. If there are valid reasons, temporary or longer term, perhaps caring responsibilities or health issues, it may be an opportunity for the business to offer support for the valued employee through flexible working or other appropriate options, which may need to be specific to each case.